28
Feb
Heat Pump During The Winter: What You Need To Know
Heat Pump During The Winter: What You Need To Know
A heat pump is a central air conditioning system that also has the ability to heat your home during the winter. It basically "pumps" heat into your home during the cold weather months and "pumps" heat out during the summer months. When used properly, a heat pump can be a very efficient and economical investment for your home.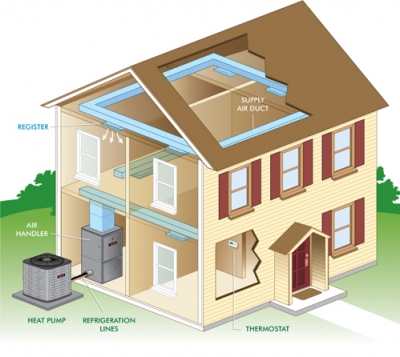 The Emergency Heat Setting: How NOT To Use A Heat Pump
If you have a heat pump installed in your home, there are very important things to understand about using it during the colder months of the year.
For instance, have you ever noticed the "emergency heat" setting on your thermostat? It can be very easy to miss, and you can even turn it on accidentally.

It is important to understand that you should never use the emergency heat function on your thermostat for the following reasons:
It eliminates the energy efficiency of the heat pump
It can lead to much higher energy usage and higher monthly bills
Heat pumps are designed to be more efficient than resistance (emergency) heating at any temperature. Once the temperature falls below 32° F, a heat pump will need to utilize a supplemental heat source to meet the comfort needs of your home. When this happens, your heat pump is still efficiently moving a portion of the heat from the outside. Even at low temperatures, your heat pump system is always more efficient than utilizing emergency heat.
If you have any questions about using your heat pump or the emergency heat setting, please call us at 540-295-6697 and an energy efficiency expert will be happy to speak with you.